balance in life

dynamic fusion of martial arts, qigong and core energetics moves
for empowerment and well-being
Tao Spirit is the culmination of my 35 years of training and teaching internal martial arts and embodied meditation practices.
It is a powerful synthesis of four martial art styles as well as a selection of movement and energy development techniques from the systems of Tai chi, Qigong and body-based Psychotherapy. Tao Spirit is invigorating and loads of fun as we celebrate our soft and strong energies and welcome our true power.
I am looking forward to offering this work to all women who would like to build their focus, strength and aliveness, and enjoy life with more confidence and fuller self-expression.
Online Classes are coming soon.
Please register your interest here.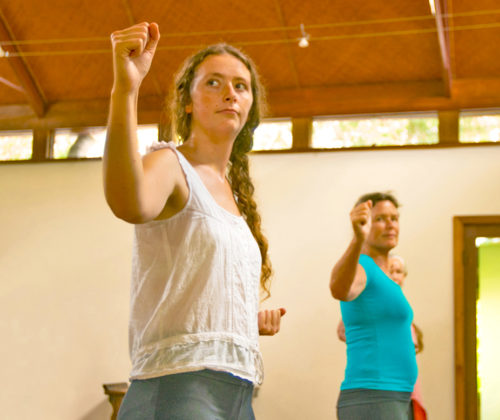 Student Testimonials
hover over the text to pause slider
Robert, Retired Disability Support Worker
The mixed Qigong and Tai Chi class is a focal point of my week as a chance to reset energetically. The practice has enhanced my balance, attitude and posture. Annual health check revealed that I have recovered 6 mm in height. It has helped me reconnect with the quality of awareness that is found in meditation.
Robert, Retired Disability Support Worker
Sono, Creative Director
Through Tai Chi I experience a profound sense of myself and my world. It is a powerful vehicle that brings my mind into union with my body, my life force and into resonance with the heartbeat of life. My years training with Shirsha have been a wonderful blend of informative instruction and interesting learning. We have been incredibly lucky to have been taught by an instructor who, not only is passionate about these arts but embodies grace, patience and the rare ability to transfer her knowledge whilst retaining impeccably, the integrity of this extraordinary art.
Sono, Creative Director
Paul, Organic Farming Teacher
I am most grateful for the commitment and compassion of our Tai Chi teacher Shirsha Marie. For 10 years now I have been practicing Tai Chi at the Centre here in Byron Bay and have been able to free my body from back and joint pain. Tai Chi has helped me to move to a deeper and more satisfying level of meditation. There are so many benefits for mind body and spirit from this ancient art.
Paul, Organic Farming Teacher
Brinn, Manager
I have been practicing Tai Chi and Qigong for 1.5 years with Shirsha with great benefit to mind and body. Her teaching style transmits the finer points and internal aspects of these arts very well, while keeping a calm and respectful environment. For me Tai Chi and Qigong are a perfect continuation of my internal development, martial and body maintenance  practices.
Brinn, Manager
Anna, Lawyer
I have been practising Qigong with Shirsha for more than 4 years. Of all the exercise and movement forms I have tried over the years, this has been the most interesting and rewarding. Over time, I've experienced certain physiological changes which neither medical nor alternative therapies have been able to produce - but the form has much to offer beyond the physical, and my sense is that one gets what one needs from it. The teaching here is deep and refined, and every class reveals something new to me in the form. There is an ever-unfolding exquisite subtlety to be found here.
Anna, Lawyer
Dawn, Retired Nurse
Qigong is absorbing. It enables me to develop stillness and calm in my body. I had suffered from poor posture and not feeling stable and connected through my body. I had tried other Qigong teachers but found that often the methods would oppose my body in a manner which was aggressive, forcing my body into the forms and positions. With Shirsha I have been helped to work with my own body and its particular needs with patience and acceptance; to improve my stance and posture and feel balanced; to become truly relaxed with my strength and comfortable in my own body. After the classes these benefits do not stop – I am able to tap into the source of my body's wisdom and take this skill into my daily life.
Dawn, Retired Nurse